guest post by Vanessa Schweizer
This is my first post to Azimuth. It's a companion to the one by Alaistair Jamieson-Lane. I'm an assistant professor at the University of Waterloo in Canada with the Centre for Knowledge Integration, or CKI. Through our teaching and research, the CKI focuses on integrating what appears, at first blush, to be drastically different fields in order to make the world a better place. The very topics I would like to cover today, which are mathematics and policy design, are an example of our flavour of knowledge integration. However, before getting into that, perhaps some background on how I got here would be helpful.
The conundrum of complex systems
For about eight years, I have focused on various problems related to long-term forecasting of social and technological change (long-term meaning in excess of 10 years). I became interested in these problems because they are particularly relevant to how we understand and respond to global environmental changes such as climate change.
In case you don't know much about global warming or what the fuss is about, part of what makes the problem particularly difficult is that the feedback from the physical climate system to human political and economic systems is exceedingly slow. It is so slow, that under traditional economic and political analyses, an optimal policy strategy may appear to be to wait before making any major decisions – that is, wait for scientific knowledge and technologies to improve, or at least wait until the next election [1]. Let somebody else make the tough (and potentially politically unpopular) decisions!
The problem with waiting is that the greenhouse gases that scientists are most concerned about stay in the atmosphere for decades or centuries. They are also churned out by the gigatonne each year. Thus the warming trends that we have experienced for the past 30 years, for instance, are the cumulative result of emissions that happened not only recently but also long ago — in the case of carbon dioxide, as far back as the turn of the 20th century. The world in the 1910s was quainter than it is now, and as more economies around the globe industrialize and modernize, it is natural to wonder: how will we manage to power it all? Will we still rely so heavily on fossil fuels, which are the primary source of our carbon dioxide emissions?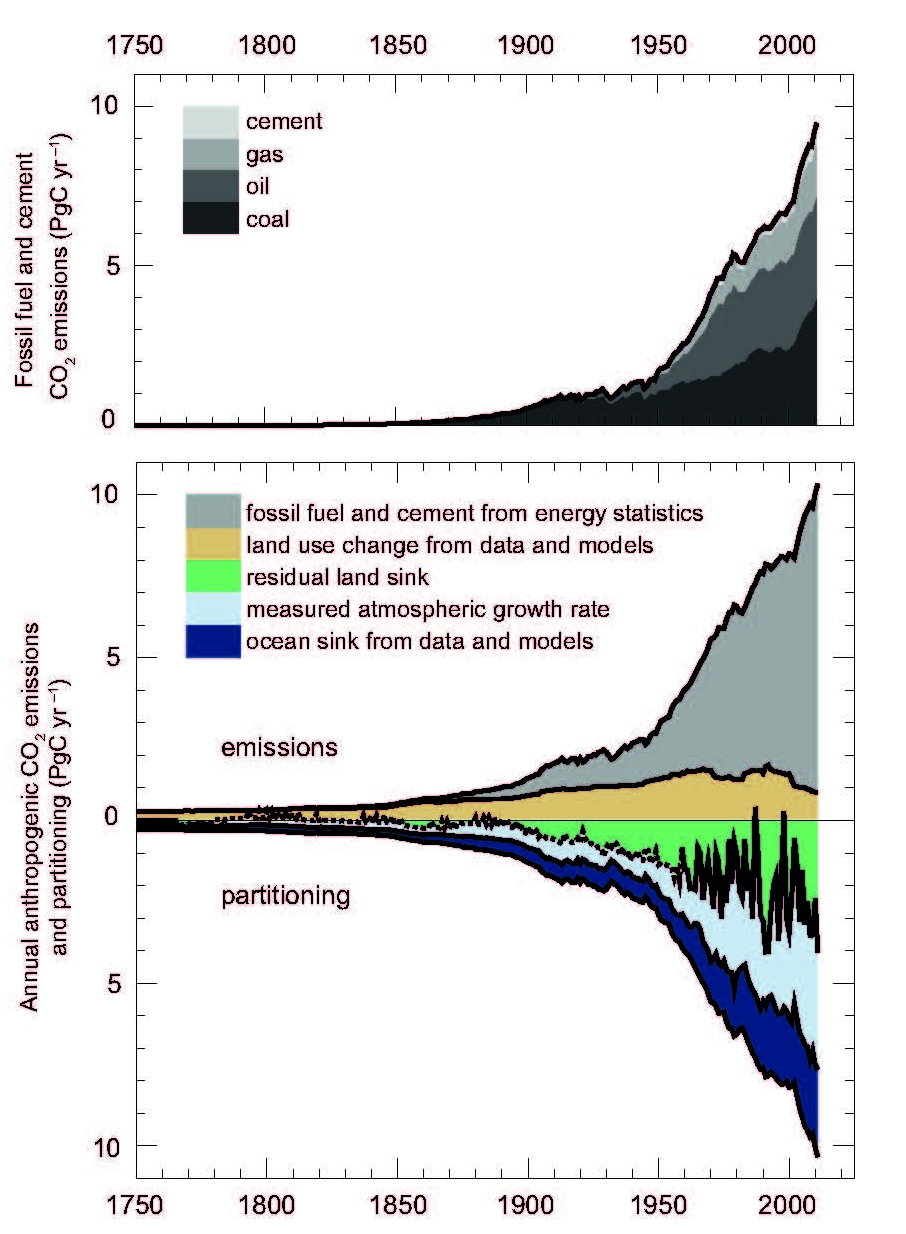 Such questions are part of what makes climate change a controversial topic. Present-day policy decisions about energy use will influence the climatic conditions of the future, so what kind of future (both near-term and long-term) do we want?
Futures studies and trying to learn from the past
Many approaches can be taken to answer the question of what kind of future we want. An approach familiar to the political world is for a leader to espouse his or her particular hopes and concerns for the future, then work to convince others that those ideas are more relevant than someone else's. Alternatively, economists do better by developing and investigating different simulations of economic developments over time; however, the predictive power of even these tools drops off precipitously beyond the 10-year time horizon.
The limitations of these approaches should not be too surprising, since any stockbroker will say that when making financial investments, past performance is not necessarily indicative of future results. We can expect the same problem with rhetorical appeals, or economic models, that are based on past performances or empirical (which also implies historical) relationships.
A different take on foresight
A different approach avoids the frustration of proving history to be a fickle tutor for the future. By setting aside the supposition that we must be able to explain why the future might play out a particular way (that is, to know the 'history' of a possible future outcome), alternative futures 20, 50, or 100 years hence can be conceptualized as different sets of conditions that may substantially diverge from what we see today and have seen before. This perspective is employed in cross-impact balance analysis, an algorithm that searches for conditions that can be demonstrated to be self-consistent [3].
Findings from cross-impact balance analyses have been informative for scientific assessments produced by the Intergovernmental Panel on Climate Change Research, or IPCC. To present a coherent picture of the climate change problem, the IPCC has coordinated scenario studies across economic and policy analysts as well as climate scientists since the 1990s. Prior to the development of the cross-impact balance method, these researchers had to do their best to identify appropriate ranges for rates of population growth, economic growth, energy efficiency improvements, etc. through their best judgment.
A retrospective using cross-impact balances on the first Special Report on Emissions Scenarios found that the researchers did a good job in many respects. However, they underrepresented the large number of alternative futures that would result in high greenhouse gas emissions in the absence of climate policy [4].
As part of the latest update to these coordinated scenarios, climate change researchers decided it would be useful to organize alternative futures according socio-economic conditions that pose greater or fewer challenges to mitigation and adaptation. Mitigation refers to policy actions that decrease greenhouse gas emissions, while adaptation refers to reducing harms due to climate change or to taking advantage of benefits. Some climate change researchers argued that it would be sufficient to consider alternative futures where challenges to mitigation and adaptation co-varied, e.g. three families of futures where mitigation and adaptation challenges would be low, medium, or high.
Instead, cross-impact balances revealed that mixed-outcome futures — such as socio-economic conditions simultaneously producing fewer challenges to mitigation but greater challenges to adaptation — could not be completely ignored. This counter-intuitive finding, among others, brought the importance of quality of governance to the fore [5]. Although it is generally recognized that quality of governance (e.g. control of corruption and the rule of law) affects quality of life [6], many in the climate change research community have focused on technological improvements, such as drought-resistant crops, or economic incentives, such as carbon prices, for mitigation and adaptation. The cross-impact balance results underscored that should global patterns of quality of governance across nations take a turn for the worse, poor governance could stymie these efforts. This is because the influence of quality of governance is pervasive; where corruption is permitted at the highest levels of power, it may be permitted at other levels as well – including levels that are responsible for building schools, teaching literacy, maintaining roads, enforcing public order, and so forth.
The cross-impact balance study revealed this in the abstract, as summarized in the example matrices below. Alastair included a matrix like these in his post, where he explained that numerical judgments in such a matrix can be used to calculate the net impact of simultaneous influences on system factors. My purpose in presenting these matrices is a bit different, as the matrix structure can also explain why particular outcomes behave as system attractors. In the this example, a solid light gray square means that the row factor directly influences the column factor some amount, while white space means that there is no direct influence: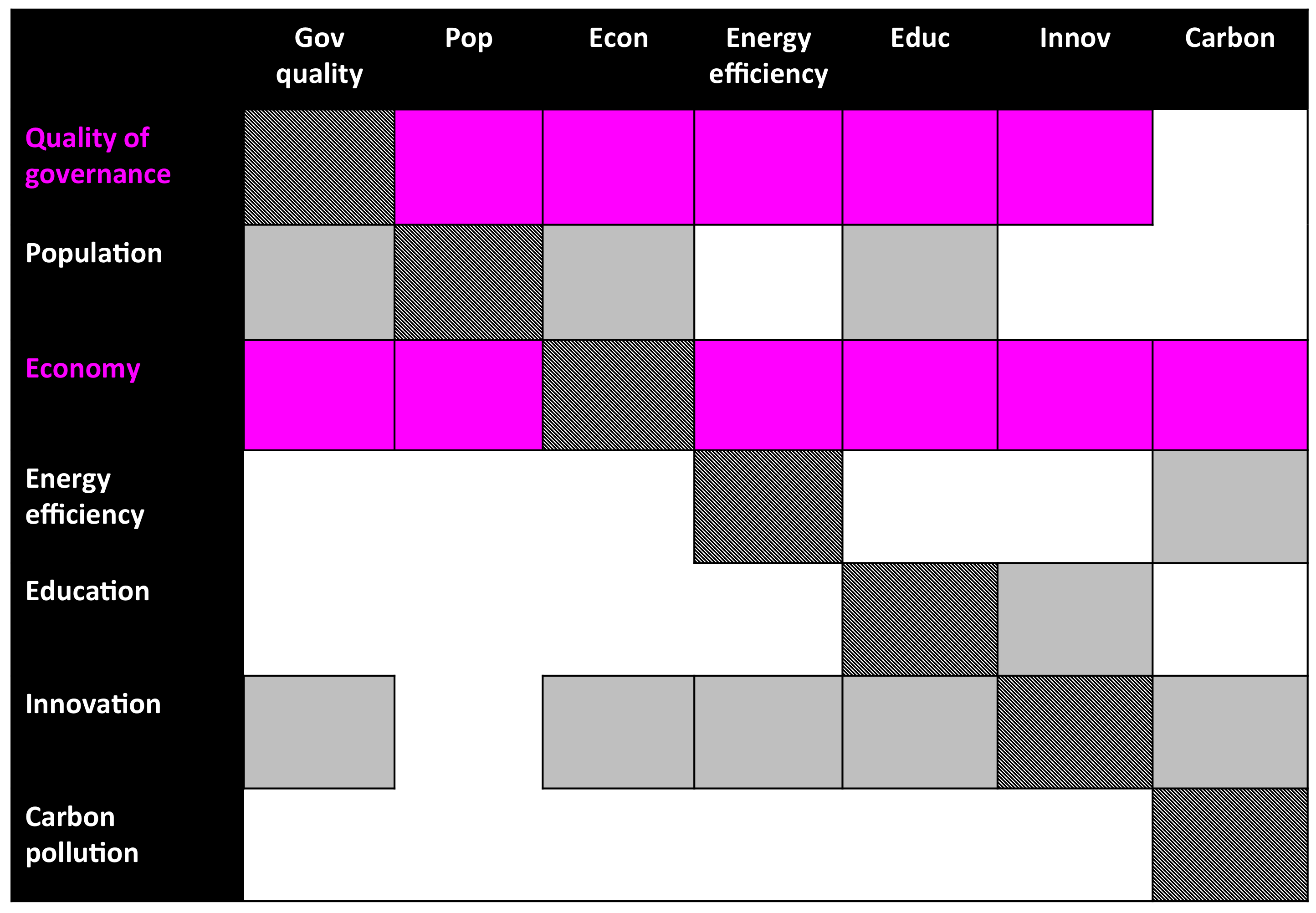 Dark gray squares along the diagonal have no meaning, since everything is perfectly correlated to itself. The pink squares highlight the rows for the factors "quality of governance" and "economy." The importance of these rows is more apparent here as the first matrix is a truncated version of this bigger one: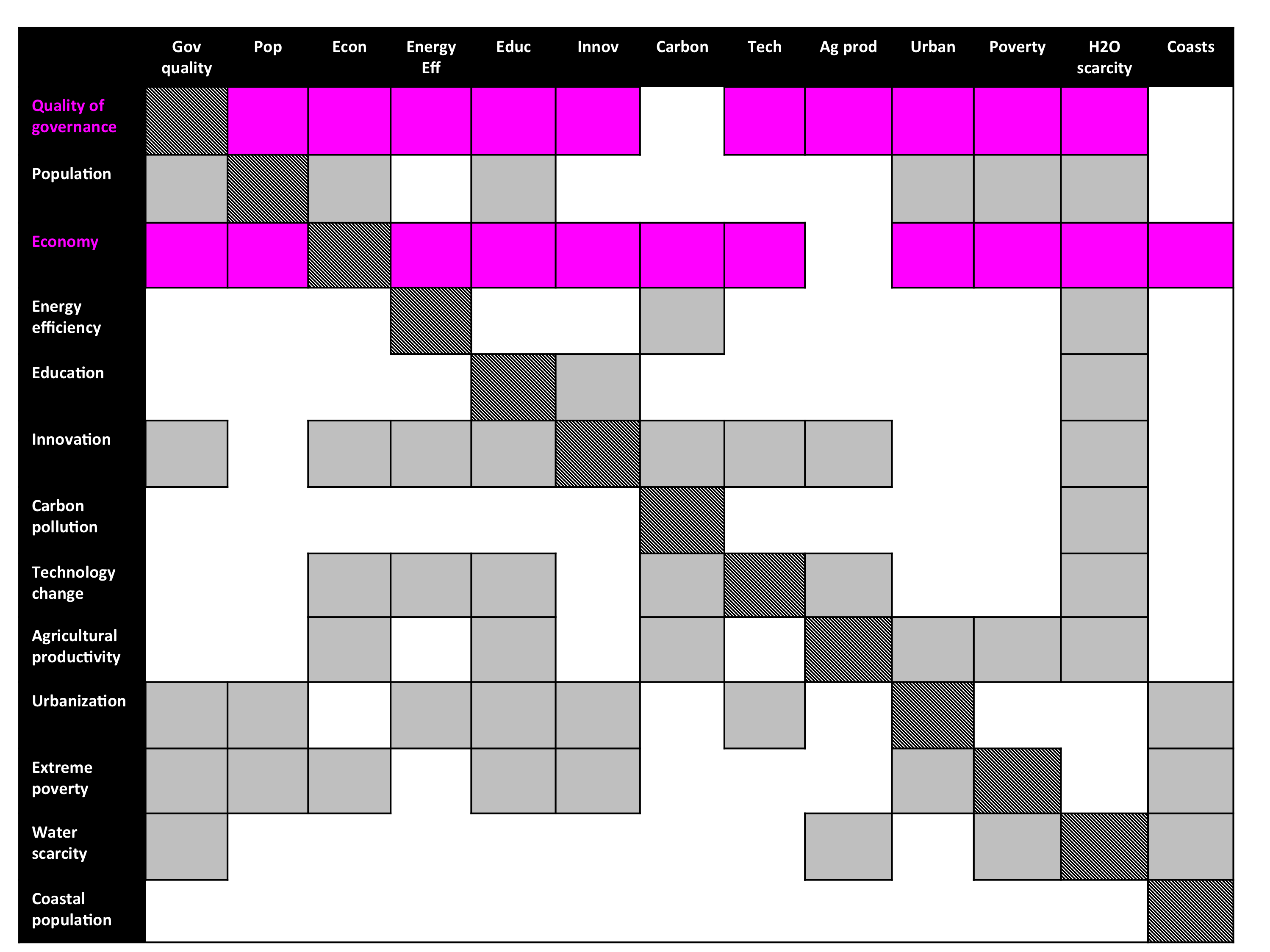 (Click to enlarge.)
The pink rows are highlighted because of a striking property of these factors. They are the two most influential factors of the system, as you can see from how many solid squares appear in their rows). The direct influence of quality of governance is second only to the economy. (Careful observers will note that the economy directly influences quality of governance, while quality of governance directly influences the economy). Other scholars have meticulously documented similar findings through observations [7].
As a method for climate policy analysis, cross-impact balances fill an important gap between genius forecasting (i.e., ideas about the far-off future espoused by one person) and scientific judgments that, in the face of deep uncertainty, are overconfident (i.e. neglecting the 'fat' or 'long' tails of a distribution).
Wanted: intrepid explorers of future possibilities
However, alternative visions of the future are only part of the information that's needed to create the future that is desired. Descriptions of courses of action that are likely to get us there are also helpful. In this regard, the post by Jamieson-Lane describes early work on modifying cross-impact balances for studying transition scenarios rather than searching primarily for system attractors.
This is where you, as the mathematician or physicist, come in! I have been working with cross-impact balances as a policy analyst, and I can see the potential of this method to revolutionize policy discussions — not only for climate change but also for policy design in general. However, as pointed out by entrepreneurship professor Karl T. Ulrich, design problems are NP-complete. Those of us with lesser math skills can be easily intimidated by the scope of such search problems. For this reason, many analysts have resigned themselves to ad hoc explorations of the vast space of future possibilities. However, some analysts like me think it is important to develop methods that do better. I hope that some of you Azimuth readers may be up for collaborating with like-minded individuals on the challenge!
References
The graph of carbon emissions is from reference [2]; the pictures of the matrices are adapted from reference [5]:
[1] M. Granger Morgan, Milind Kandlikar, James Risbey and Hadi Dowlatabadi, Why conventional tools for policy analysis are often inadequate for problems of global change, Climatic Change 41 (1999), 271–281.
[2] T.F. Stocker et al., Technical Summary, in Climate Change 2013: The Physical Science Basis. Contribution of Working Group I to the Fifth Assessment Report of the Intergovernmental Panel on Climate Change (2013), T.F. Stocker, D. Qin, G.-K. Plattner, M. Tignor, S.K. Allen, J. Boschung, A. Nauels, Y. Xia, V. Bex, and P.M. Midgley (eds.) Cambridge University Press, New York.
[3] Wolfgang Weimer-Jehle, Cross-impact balances: a system-theoretical approach to cross-impact analysis, Technological Forecasting & Social Change 73 (2006), 334–361.
[4] Vanessa J. Schweizer and Elmar Kriegler, Improving environmental change research with systematic techniques for qualitative scenarios, Environmental Research Letters 7 (2012), 044011.
[5] Vanessa J. Schweizer and Brian C. O'Neill, Systematic construction of global socioeconomic pathways using internally consistent element combinations, Climatic Change 122 (2014), 431–445.
[6] Daniel Kaufman, Aart Kray and Massimo Mastruzzi, Worldwide Governance Indicators (2013), The World Bank Group.
[7] Daron Acemoglu and James Robinson, The Origins of Power, Prosperity, and Poverty: Why Nations Fail. Website.