This was a blog article in progress, but will not be posted to the blog, as it has been superseded. To see discussions of this article, visit the Azimuth Forum.
If you want to write your own article, please read the directions on How to blog.
guest post by Nadja Kutz
Tim and I are currently working on a interactive browser visualization using temperature data from HADCRUT, namely the CRUTEM4 temperature station data. We are mapping this onto a model of the earth covered with street maps with the help of the open source WebGL Earth API (which seems to be to some extent the work of the Czech-Swiss company Klokan Technologies).
The visualization is still work in progress, but what is already visible is that the temperature data has been deteriorating with the passage of time, with more and more missing data. We do not know the reason for this missing data. It looks as if the deterioration was bigger in the years 2000-2009 than in the years 1980-2000. Below you can see screenshots of various regions of the world for the month of January for the years 1980, 2000 and 2009. Each station is represented by a rectangle around its coordinates, and the color of the rectangle indicates the (monthly) temperature value for that station, which is encoded with the usual hue encoding (blue is cold, red is hot). Black rectangles are invalid data. The CRUTEM4 data file contains the data of 4634 stations.
Mapping all the station data makes the visualization very slow, especially for scaling, therefore the slightly different scalings/views for each region and the fact that screenshots are on display. The interactive application will probably be not for all stations at once.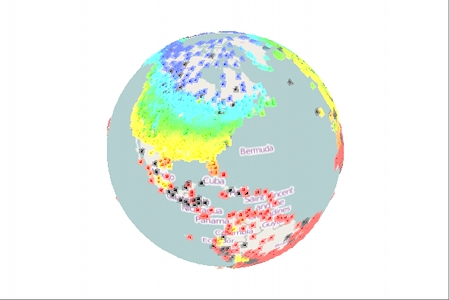 Jan 2000




Africa: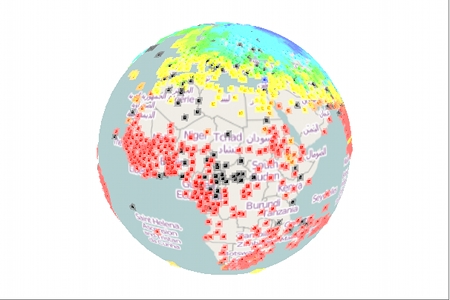 Jan 1980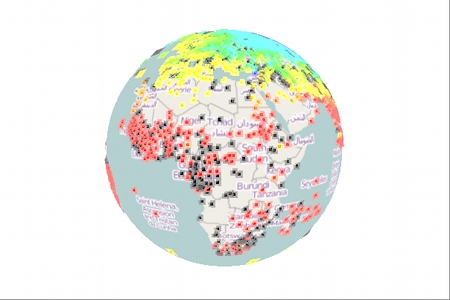 Jan 2000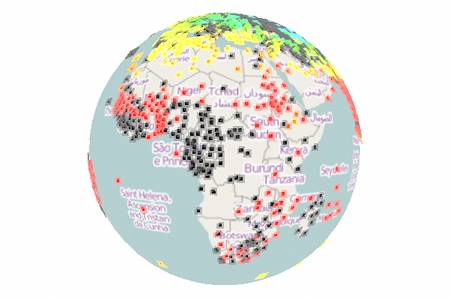 Jan 2009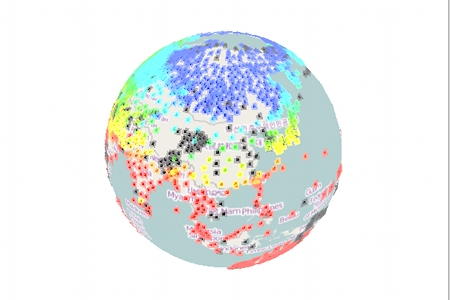 Jan 2000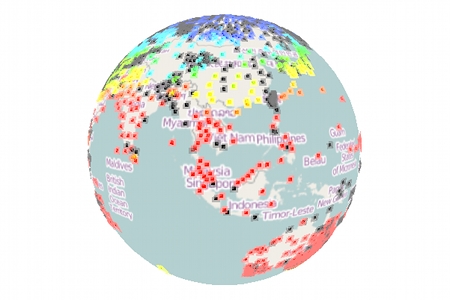 Jan 2009




Eurasia/Northern Africa: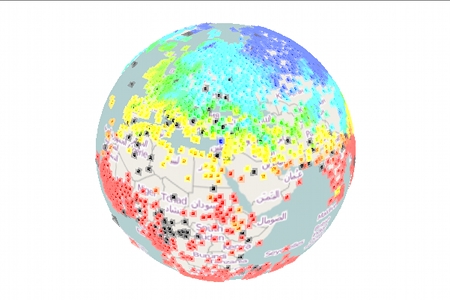 Jan 1980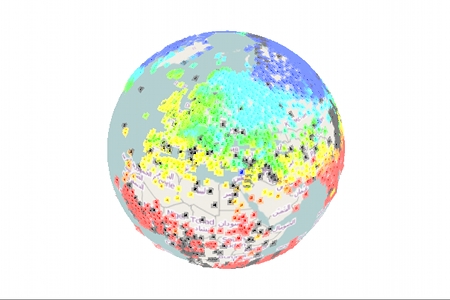 Jan 2000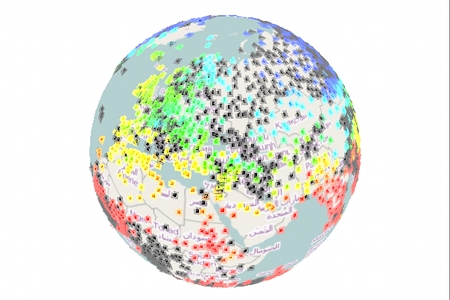 Jan 2009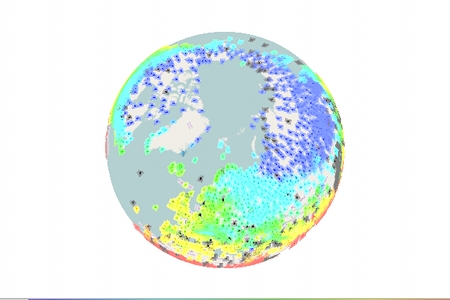 Jan 2000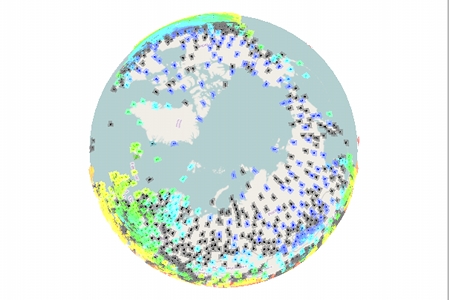 Jan 2009
The effects of missing data
There have always been fewer temperature recording stations in Arctic regions than other regions. The following paper initiated a controversy over how this fact affects our picture of the Earth's climate:
Here is some discussion:
• Kevin Cowtan, Robert Way, and Dana Nuccitelli, Global warming since 1997 more than twice as fast as previously estimated, new study shows, Skeptical Science, 13 November 2013.
• Stefan Rahmstorf, Global warming since 1997 underestimated by half, RealClimate, 13 November 2013.
• Anthony Watts' protest about Cowtan, Way and the Arctic, HotWhopper, 15 Novemer 2013.
• Victor Venema, Temperature trend over last 15 years is twice as large as previously thought , Variable Variability, 13 November 2013.
However, these posts seem to say little about the increasing amount of 'missing data'.